My Cobble Stones Books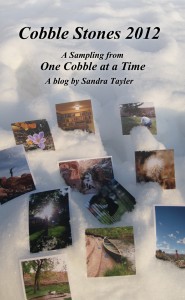 I just dropped the files off at the printer. Cobble Stones 2012 is temporarily out of my hands. In a few weeks I'll need to put it in the store, open ordering, and begin the promotional push. I'll also be re-introducing Cobble Stones 2011, which really didn't get a proper launch of its own. Instead I just declared it done and moved onward because so many other things were demanding my attention. Several months ago I picked up the trade paperback size of Cobble Stones 2011 and realized that I'd made a mistake. These are sampler books, they should be small and light. People should be able to pick them up on a whim and read few a few essays. If I wanted the book to have those qualities, I needed to make the books smaller and less expensive. I sat down and re-designed them. Going forward all of the Cobble Stones books will be 4×7, which is the same size as a mass market paperback. The paper and binding will be the same quality as the larger book, but the smaller size lets me lower the price to $5 per book. I'm very pleased about this. I also love that the books are now an excellent size for tucking into a purse or bag and carrying along. This is the way these books ought to be. They'll make their big debut in the store sometime next week. For now I have the last 30 copies of the 6×9 size. I suppose those 30 copies qualify as collectible since they're at a discontinued size and they were printed before I redesigned the cover to include the year 2011 in the typography.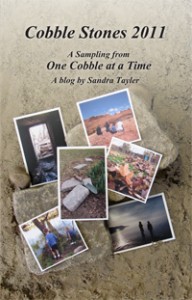 Putting together the second book was a fascinating project. I was able apply new things that I've learned about graphic design into the page layouts. It was also interesting to compare the content of the two books. There are some obvious thematic similarities, but you can tell that 2012 was a year when I was really wrestling with my tendency to struggle with anxiety, where the 2011 book just has hints of that and is far more focused on self discovery. It was why the snowy cover felt appropriate for the 2012 book. I'm hoping and picturing the 2013 book with a summery cover, perhaps on grass. Or maybe there won't be an individual book for 2013, right now I have a hard time believing I'll have enough solid essays to make a third book. I have to not focus on that. I write when I can and life is calming down so I'm able to write more often. Instead of fretting over the fate of future projects, I need to look at these two books I already have. I made two books. They're pretty! And in only a week or so I'll be able to show them to others. This is cause enough for rejoicing.
Comments are open on the original post at onecobble.com.