We will be releasing two editions of this book. Kickstarter backers are being given the option to choose which edition they want. This page is designed to give them information so that they can choose. If you are not one of the Planet Mercenary Kickstarter backers and are interested in pre-ordering one (or both) of these books, you can place your pre-order here.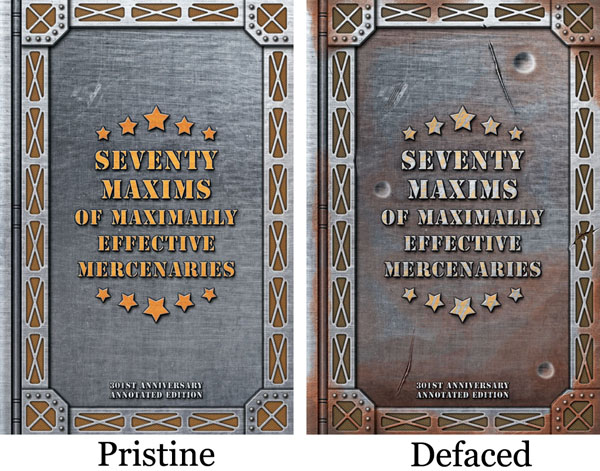 The Pristine edition of the Seventy Maxims book has a cover that looks new and interior pages which are crisp and clean to read. The paper for the pages is actually off-white in color and has a nice texture. This is the ideal version for introducing friends to the maxims without confusing them with the character handwriting. It is also ideal if you want to do your own handwriting and notes either by yourself or with a group of friends.
The Defaced edition of the Seventy Maxims book has a cover which shows rust, gouges, and dents from bullets. The interior pages look aged and stained. There are handwritten notes around the maxims which were written by various characters from the Schlock Mercenary comic strip. The Defaced Edition is an in-world artifact. It originally belonged to Karl Tagon, was passed to his son Kaff Tagon, and also went through the hands of Captain Alexia Murtaugh and Sergeant Schlock. This version is ideal for the fan of the comic who wants to laugh at in jokes and gain additional insight into some of the characters.
Here is the front endpage of the Defaced version.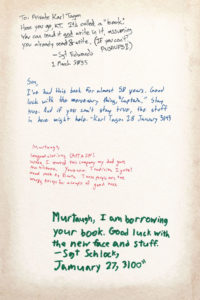 And here are some comparisons of Pristine pages to Defaced pages.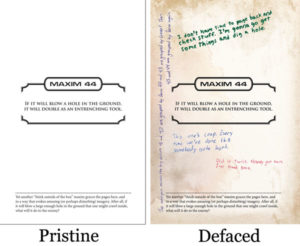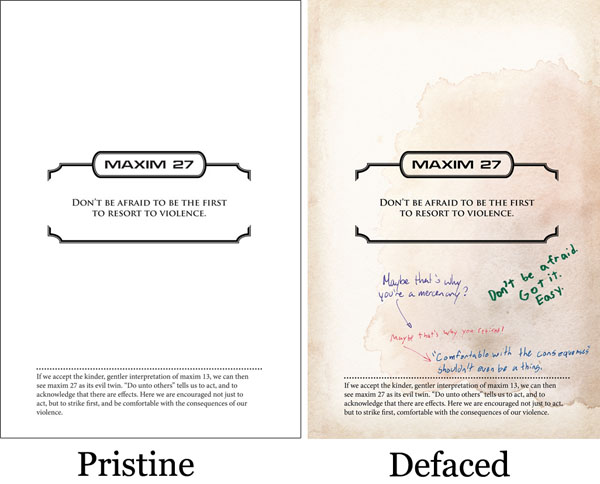 I personally love both editions of the book and am glad that we are able to offer both.
Comments are open on the original post at onecobble.com.